Fully Automatic Cartoner
120i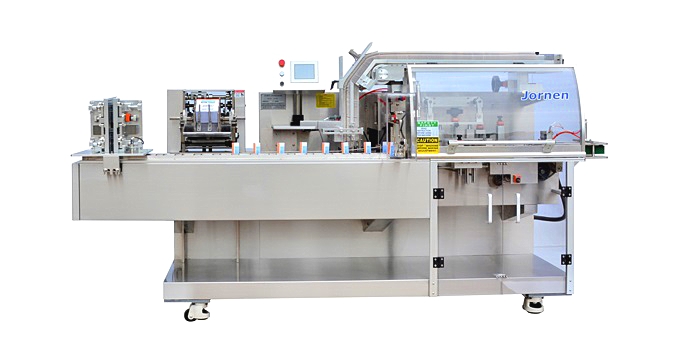 The characteristics of Cartoner ZH120:
Automatic intermittent motion horizontal cartoning machine, very compact and reliable. The working area is in cantilever (balcony type) layout. The main structure has a vertical partition to separate the drive section (rear) from the operating zones (front). It is suitable for packaging of blisters, bottles, vials, pillow packs, etc.
The machine runs stable and provides easy changeover for different sizes of cartons.
It can fold leaflets, open cartons, insert the products and leaflets into cartons, emboss, tuck-in or hot-melt closures and automatically discharge cartons.
The machine is equipped with a series of sensors and automatic protective devices to assure the machine runs safely and effectively.
It can connect with Blister Machine, Pillow Pack Machine,Overwrapper, etc., to form a Production Packaging Line.
Main units of this Cartoner:
Gear Device:
The gear drives the carton conveyor chain and blister conveyor chain running in intermittent motion.
Carton Conveyor Chain:
The carton conveyor chain is used to transfer opened cartons to every stations, that can automatically complete the actions of inserting of blister cards and leaflets into cartons, embossing, closing of cartons, discharging of cartons.
Leaflet Conveyor Chain:
The leaflet conveyor chain is applied to send folded leaflets to the blister feeding station then the leaflets and the blister cards are inserted into cartons together.
Carton pick-up device:
The carton pick-up with one set of suction cup can suck the cartons from the carton magazine, open the carton, place it on the carton conveyor.
The Leaflet Folding Device:
The leaflet folding device can make the leaflet fold one to four folds according to customer's demand .
Inserter device:
The inserter device can push the blister cards into the carton in intermittent motion.
Carton magazine device:
Adopt long carton magazine for approximately 1000 cartons.
Main Technical Parameters: 
Max.Output:                             120 cartons/min.
Range of Carton Size:                Max.150x115x50mm  Min.55x30x15mm
Machine Power:                         1.8kw
Machine Dimension:                   3500x1500x1800mm
Machine Weight:                       1200kg